Things to consider: Health and Safety in Welding 
Welding has been used for hundreds of years as a way of joining two pieces of metal together. In the past, this was done through forge welding, but now there are other ways such as flame, electric arc, laser, electron beam and friction.
Regardless of the technique used, welding can be a hazardous job, and this is where health and safety in welding is so important. There are many risks associated with welding, not just from the task itself, but also from other issues such as welding fumes that produce toxic gases and damage to the eyes and lungs. Because of these risks, there is legislation in place to protect workers and ensure injuries are minimised.

Which Legislation Affects Health and Safety in Welding?
In the UK, there is legislation that looks to protect workers from the dangers of welding. The main problem is the inhalation of hazardous substances which can lead to health conditions such as lung cancer and asthma.
The main piece of legislation is COSHH (Control of Substances Hazardous to Health). This requires employers to protect their workers who are tasked with welding. Part of this is to provide adequate ventilation so that any exposure to welding fumes is kept to a minimum.
Employers are also required to provide adequate PPE (Personal Protective Equipment) so that risks to health through injuries are also minimised.
Another piece of legislation that covers welding is the Health and Safety at Work Act. This together with COSHH ensures that employers are taking care of their workers and reducing the risk of exposure to dangerous substances and other health effects.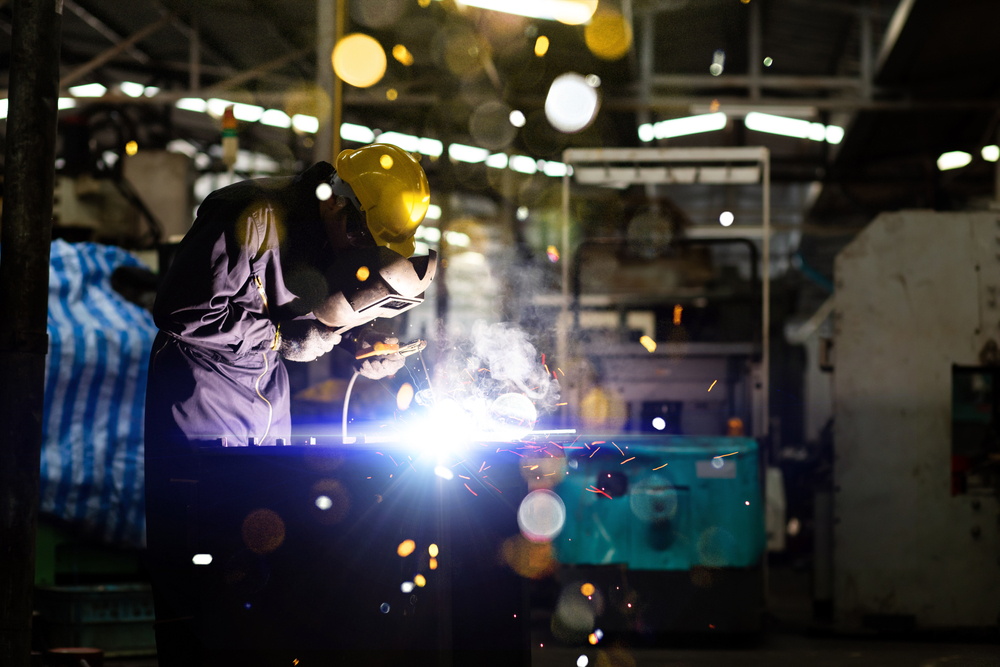 Important Health and Safety Considerations in Welding
Both the Health and Safety at Work Act and COSHH are created to help workers get the protection they need, as well as giving employers the guidance they need to keep welders safe. There are many elements to this that go beyond fuel gases, exposure to fumes, and dust. There are also other adverse health effects that welders can be exposed to.
It is also important to ensure that a general level of safety is maintained so that workers and others around the working area are protected.

Creating a Safe Workshop Environment
Part of working in workshops is that you are going to be exposed to dangerous activities on a daily basis. Having effective control measures in place gives everyone the ability to protect themselves and others. It also provides a base level of safety that everyone must meet.
The workshop and workstations must be kept tidy and any electrical welding equipment not being used needs to be switched off. Each area where welding is performed must have adequate exhaust ventilation systems to protect from harmful levels of toxic fumes.
Managers are required to ensure the hierarchy of control measures is being adhered to and appropriate procedures are being followed.
Maintaining a safe place of work begins with adequate training and reinforcement of safety guidance. Any new procedures or safety legislation must be put in place and staff trained on the new guidance.

Electrical Safety
When performing electric arc welding, there is a great risk of electric shock. This can cause serious harm if the right procedures are not put in place. Welding cables need to be secure and used in the correct manner. Electrical welding equipment must also be used safely and inspected regularly for any damage or repairs that may be needed.
These preventative measures ensure that the welding process is as safe as possible and any risk is minimised.
Make sure all cables are in good condition and have no bare insulation or frayed wires.
Protect wires and cables from damage from vehicles and other hazards.
Ensure that the rod holder is insulated correctly.
When replacing the welding electrode, do not do this with bare hands or a wet welding glove.
You must always keep your hands and body dry when welding.
Avoid all contact with live parts of the welding equipment and the workpiece during the welding process.
Always have the welding transformer in close proximity. This ensures that it can be easily switched off in the event of an accident.
Do not hold or move the welding electrode together with the return cable at the same time when moving from one working position to another.

Fumes
In 2018, the IARC (International Agency for Research on Cancer) classified fumes from welding as a Group 1 carcinogen. They found that there was sufficient evidence that humans who inhaled carcinogenic materials from welding had a higher risk of getting lung cancer. There was also the potential to cause kidney cancer.
Exposure to the fumes created from welding has been found to potentially cause a range of health conditions. For example, mild steel welding fumes have been linked to neurological symptoms similar to Parkinson's disease.
Together with these conditions, there is also a range of respiratory conditions that are also linked including:
Metal fume fever
Chronic Obstructive Pulmonary Disease (COPD)
Asthma
Increased susceptibility to pneumonia
Employers need to consider whether the current control measures are sufficient to reduce the risk, looking at the way flammable gases and inert gases are being removed from the work area adequately. This means the following need to be assessed:
The welding process and the volume of work against the amount of fume generated
The size of the component being welded
The position of the piece that is being welded
What type of metal is being welded (mild steel, stainless steel)
Whether the welding is being done indoors, outdoors, or in a confined space
Consider whether the clearance for ventilation is adequate

Noise and Noise Cancelling Provisions
When it comes to noise, this is generally associated with heavy fabrication. This includes the fabrication of larger-scale metal products, chemical manufacture, pressure vessels, storage silos and structural steelwork.
This noise tends to be intermittent but at high levels. This means there needs to be a constant measuring of safe levels of noise and checking of the exposure levels.
Considerations need to be made towards the approach to reduce the levels of noise and how that can be achieved. Some tools create more noise than others, and it may be impossible to avoid using them. If this is the case, then the amount of time using them should be limited if possible.
Another option is to use enclosures to limit the noise and the use of permits to use those tools that are the loudest. Once the measures have been put in place, there needs to be constant assessment during welding activities to see if additional measures are required such as ear protectors.
Together with assessments for those working with noisy tools and equipment, there also needs to be a consideration for those around them. Noise pollution may create problems for other workers in the vicinity of the noise. Measurements of the noise levels in the area will determine whether additional safety measures will be needed.

Eye Protection and Safety
Eye injuries caused by welding are common. This is often because welders don't wear the appropriate PPE such as safety goggles or face shields. This is an area that needs to be enforced as there can be a low perception of risk from some workers.
Wearing a welding helmet isn't enough protection. Along with the helmet, workers also need to wear safety goggles or safety glasses. Goggles will provide better protection from activities such as gas welding.
The biggest issues that result in injuries to the eyes include:
Mechanical damage from being struck by flying particles and other debris including molten metal particles
Radiation damage and photochemical burns from ultraviolet radiation, infrared radiation and intense blue light
Irritation to the eyes from chemical fumes
Some injuries can occur quickly, while others such as radiation exposure can affect the eyes over time. One such condition is arc eye or arc flash. This is a painful condition that causes swelling, tearing and pain. This injury isn't usually permanent, but continued exposure could cause additional problems.
Correct safety training along with health surveillance and monitoring will help to reduce the risk of injury to the eyes. Safety in welding information also needs to be on hand at all times so that workers have access to it.
To create an effective overall eye protection plan when welding, you need to consider these things:
Review the area where welding will take place and put safety measures in place
Ensure the area around the welding area is free from trip hazards. Welders who are wearing goggles and masks cannot see around them easily
If other staff are working in the area, consider fitting curtains to absorb the radiation
Cover any highly reflective surfaces to protect from glare
Always wear the appropriate headgear and goggles depending on the type of welding being undertaken
If other workers are also in the area, they may also need to wear eye protection
Gloves and clothing that protect from UV radiation should always be worn when welding
If anyone receives a flash burn injury then they need to seek medical attention immediately to prevent a permanent injury
Training is essential when hiring and working with welders. This training must be kept up to date with new regulations and safety procedures

Mechanical Hazards and Burn Risks
Mechanical hazards and burn risks are also a regular occurrence for welders if they don't follow the correct procedures. One of the most serious issues is burns, which can happen quickly and be potentially serious if not treated.
The combination of high-temperature welding arcs, UV rays and drips of metal can make welders susceptible to burns. Most of the instances of burns from welding are where the welder thinks they can skip the safety procedures for a quick piece of welding. However, this is considered bad practice and should be forbidden in the workplace.
Mechanical injuries can manifest in the form of musculoskeletal injuries from a piece of metal that has fallen or not been secured properly. Other injuries can occur from combustible substances that ignite during the welding process.
Any injury that occurs in the workplace should be reported immediately. Medical help should be sought and first aid administered by a trained colleague. After the accident, a complete safety inspection should be carried out to ascertain what caused the injury and if any additional safety procedures are needed.

Welding in Difficult Situations
When welding in situations that are not the usual areas such as in confined spaces and outdoors, then special measures should be put into place to protect the welder.
Toxic gases can be hazardous, especially in a confined space. Respiratory irritation, metal fume fever and pneumonia can be short-term issues. Longer-term, serious lung disease and cancer can occur if safety is now followed.
In small spaces, welding can cause the ignition of flammable materials, dust and vapours to cause an explosion. Great care is required to prevent such risks.
Poor ventilation together with the accumulation of gases can cause asphyxiation from lack of oxygen.
Radiation can be a problem, especially if the space contains reflective surfaces that give off glare and UV radiation. This can cause burns to the skin together with eye irritation.
To lessen the risk of these problems, the correct PPE should always be worn even in enclosed spaces. This will protect the welder and ensure no UV radiation or flash burns occur. It is also important to ensure the correct goggles and face shields are always worn.
Exhaust ventilation is essential to remove toxic gases and ensure there is sufficient oxygen for the welder. Observation of the time worked should also be carried out so that the welder gets regular breaks and has the opportunity to remove themselves from the environment. It may be a good idea to have more than one welder working and swap them around at regular intervals.

Why is Health and Safety in Welding so Important?
Welding is a dangerous job with many short-term and long-term health conditions for those that are not following the health and safety procedures. Health conditions are one of the reasons these procedures were introduced, and they are what keep welders and those working in close proximity safe.
Every country has its own health and safety procedures that must be followed when working in the welding environment. Some of the things that are covered in the legislation include:
Air Quality – Ensuring that there is sufficient extraction to get rid of the toxic fumes and other gases and dust.
PPE should be provided to ensure the workers are safe and protected. This includes protective clothing, face shields, gloves and goggles.
Checking the workstation and equipment to prevent shocks. Also ensuring safe working practices to reduce the risk of accidental shocks.

The Consequences of Not Following Health and Safety Guidelines
If the health and safety regulations are not followed, there can be serious health effects as a result. These conditions range from short-term to long-term conditions that can be serious and potentially life-threatening.
Irritation to the respiratory system including dryness of the throat, coughing and tightness in the chest
Acute irritant-induced asthma otherwise known as reactive airways dysfunction
Metal fume fever displays flu-like symptoms which last for a few hours after exposure to hot galvanised metals
Acute Pneumonia is caused by breathing in welding fumes. The fumes can cause a lung infection that can turn into pneumonia if left untreated. A vaccination is available but will not stop the infection, just reduce the risk
There is an increased risk of lung cancer for those welders that breathe in the fumes over a long period of time
Liver cancer is also linked to those who have long exposure to welding fumes without PPE
Chronic Obstructive Pulmonary Disease (COPD) Evidence suggests welding fumes may cause COPD, but there is currently no definitive link
Welder's Lung
Arc-eye that can be both short-term and cause long-lasting effects
Hearing Loss caused by the welding and hammering
Flash burns that cause short and long-term problems

Working With Salamander Fabrications
Salamander Fabrications was established in 1968 in Huddersfield and is a full-service sheet metal fabrication company. They work with companies all over the world, producing high-quality fabricated metal products.
The company has grown over the years to include cutting-edge technology to provide high-quality products and an outstanding customer experience. Salamander now provides a complete range of CNC machining services as well as subcontracting and supplying a broad range of products to sectors and businesses.
Some of the services Salamander offers include:
As well as our range of high-quality services, we are also certified to the following standards:
We work for companies in many different sectors so we are always able to help with whatever the need may be. We have helped companies create the following products:
When you need an experienced and high-quality metal fabrication product, think of Salamander Fabrications. We have a friendly and highly trained staff who will be happy to help you. We pride ourselves on maintaining a high level of professionalism and safety for all of our staff and the companies we work with. This means we will be able to create the ideal product for your needs and ensure that it is designed and made to the highest standard. All you need to do is get in touch with the team today and speak to one of our friendly staff. They will be happy to help you and answer any questions you may have.